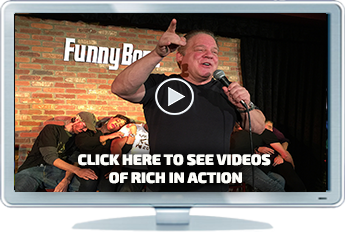 FYI
Rich learned how to read music at the age of six when his parents sent him for accordion lessons. It came in handy when he played the clarinet in school but he has yet to find a use for his polka expertise.
Rich spends about $300 a month on pet food. He has three dogs and a cat that stay indoors but also feeds the neighbors dogs, a few stray cats, plus the random raccoons, squirrels and skunks that eat the food he leaves on the deck outside.
Working with Vince Vaughn is on the top of Rich's wish list. Comedy with a solid message. It doesn't get much better than that. If you happen to know Vince, tell him Rich is waiting for the call.
Rich was born in Brooklyn NY and went to Bay Shore High School on Long Island. He graduated in 1980 - after going to summer school to pick up the last half credit.
The weirdest thing that has ever happened during a show was at an outdoor venue. A security guard on a horse rode up to the stage then both the rider and horse went down after the horse apparently got hypnotized. Nobody was hurt.
Rich recommends "Long John Silvers" every night as a way for couples to spice up their relationship. He says forget the Viagra ads, order the Jumbo Shrimp now! Do I see a sponsorship deal coming?
Rich used to play guitar in a rock band till he got tired of carrying around the heavy equipment. Stand up comedy was next because all he needed was a microphone and the club already had it there.
Rich's favorite hobby is trading stocks. He says its like a giant casino where instead of betting on Black or Red you pick companies that use symbols. For example AAPL is for Apple Computer or AMZN is for Amazon.
One of Rich's goals is to give Hypnosis a better image. He wants to remove the stigma attached to it and show the world the amazing value and power it can bring to the masses.
Rich sold his car repair business to follow his life long dream of being a stand up comedian in the early nineties. Everybody thought he was crazy!
Dave, Rich's buddy from Lancaster PA has the only club that he still plays today and did over 20 years ago as a regular stand up comic.
Rich is a terrible cook. He once made a meal that was so inedible that he had to feed it to the dogs and even they spit it out.
Jasper, Rich's dog will be 19 in December and still goes on most of the road trips. When he told the vet he was starting to slow down a bit the response was "What do want, he's like 133 years old!"
Comedy legend Joey Kola was the guy who showed Rich how to be a comedian when starting out. Joeys dad was Rich's coach in little league baseball.
"Afghanistan Banana Stand" Is a Hypnosis reference from the 1972 movie "The Hot Rock" staring Robert Redford. Rich adds the phrase to his show nightly to the delight of married men across the country!
Whenever anything James Bond, Rocky or The Godfather is on TV Rich is hooked. He will even watch Timothy Dalton, Rocky 5 and The Third Godfather Movie.
Rich has food allergies including wheat, yeast, dairy and tomato's, just to name a few. Which basically makes eating pizza like Kryptonite to an Italian guy from NY.
Watching Bud Friedman's "An Evening At The Improv" as a kid gave Rich the comedy bug over 40 years ago. Now he is a regular on The Improv Stages across the country.
Rich is becoming a health nut now that he has turned 50. He has lost 28 pounds, does yoga, cardio training, lifts weights and even changed his diet. He especially loves the eating five times a day part.
Rich loves the road, performing about 300 shows a year and has been doing so for over 20 years.
CNBC, The Food Networks and the Home Fix Up shows are Rich's favorite TV Channels. He loves Mad Money with Jim Cramer, Iron Chef, Chopped, and anything having to do with construction projects.
The first time Rich went to a comedy club he was 18 years old. Eddie Murphy was the middle act and it was before he was on Saturday Night Live.
If you Google "Guzzi" Rich still doesn't come up till page two because of the Moto Guzzi Motorcycle. He needs your help to become more famous, so tell your friends.
Rich owns a Harley but is embarrassed to admit that he has not ridden it in years. In fact, it only has 1500 miles on it and is totally blocked in by stuff in the garage.
Rich has performed in 48 of the 50 states missing only North Dakota and Maine which he plans to knock off sometime in 2015.